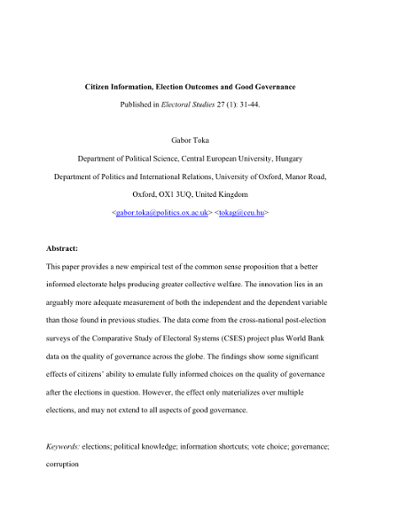 Name:
toka08governance.pdf
Size:
240.3Kb
Format:
PDF
Your vote was cast
Thank you for your feedback
Place of Publication
Amsterdam
Title / Series / Name
Electoral Studies
Abstract
This paper provides a new empirical test of the common sense proposition that a better informed electorate helps producing greater collective welfare. The innovation lies in an arguably more adequate measurement of both the independent and the dependent variable than those found in previous studies. The data come from the cross-national post-election surveys of the Comparative Study of Electoral Systems (CSES) project plusWorld Bank data on the quality of governance across the globe. The findings show some significant effects of citizens ability to emulate fully informed choices on the quality of governance after the elections in question. However, the effect only materializes over multiple elections, and may not extend to all aspects of good governance.
Publisher link
http://www.mendeley.com/research/locating-capitalism-in-time-and-space-global-restructurings-politics-and-identity/
identifiers
10.1016/j.electstud.2007.11.006
ae974a485f413a2113503eed53cd6c53
10.1016/j.electstud.2007.11.006
Scopus Count
Collections