Near-infrared spectroscopy: A report from the McDonnell Infant Methodology Consortium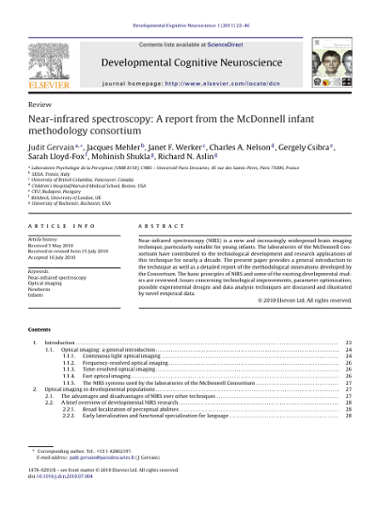 Name:
gervainetal2011.pdf
Size:
1.008Mb
Format:
PDF
Your vote was cast
Thank you for your feedback
Title / Series / Name
Developmental Cognitive Neuroscience
Abstract
Near-infrared spectroscopy (NIRS) is a new and increasingly widespread brain imaging technique, particularly suitable for young infants. The laboratories of the McDonnell Consortium have contributed to the technological development and research applications of this technique for nearly a decade. The present paper provides a general introduction to the technique as well as a detailed report of the methodological innovations developed by the Consortium. The basic principles of NIRS and some of the existing developmental studies are reviewed. Issues concerning technological improvements, parameter optimization, possible experimental designs and data analysis techniques are discussed and illustrated by novel empirical data.
Publisher link
http://dx.doi.org/10.1016/j.dcn.2010.07.004
identifiers
http://dx.doi.org/10.1016/j.dcn.2010.07.004
ae974a485f413a2113503eed53cd6c53
http://dx.doi.org/10.1016/j.dcn.2010.07.004
Scopus Count
Collections