The role of shared visual information for joint action coordination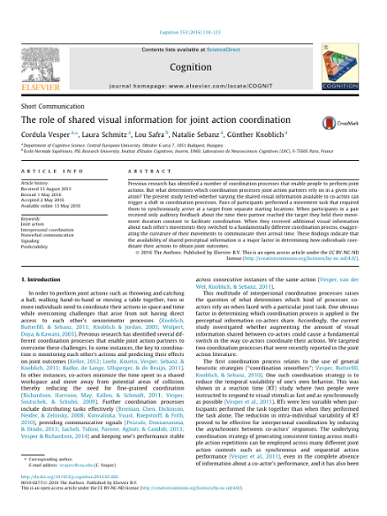 Name:
Vesper-Cordula_2016.pdf
Size:
765.9Kb
Format:
PDF
Your vote was cast
Thank you for your feedback
Title / Series / Name
Cognition
Abstract
Previous research has identified a number of coordination processes that enable people to perform joint actions. But what determines which coordination processes joint action partners rely on in a given situation? The present study tested whether varying the shared visual information available to co-actors can trigger a shift in coordination processes. Pairs of participants performed a movement task that required them to synchronously arrive at a target from separate starting locations. When participants in a pair received only auditory feedback about the time their partner reached the target they held their movement duration constant to facilitate coordination. When they received additional visual information about each other's movements they switched to a fundamentally different coordination process, exaggerating the curvature of their movements to communicate their arrival time. These findings indicate that the availability of shared perceptual information is a major factor in determining how individuals coordinate their actions to obtain joint outcomes.
identifiers
10.1016/j.cognition.2016.05.002
ae974a485f413a2113503eed53cd6c53
10.1016/j.cognition.2016.05.002
Scopus Count
Collections