Empathy, emotional intelligence and interprofessional skills in healthcare education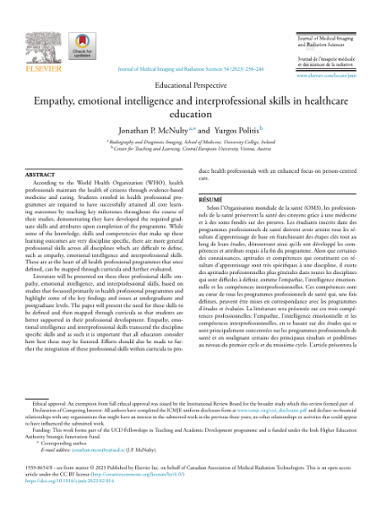 Name:
Politis-Yurgos_2023-1.pdf
Size:
577.4Kb
Format:
PDF
Your vote was cast
Thank you for your feedback
Title / Series / Name
Journal of Medical Imaging and Radiation Sciences
Abstract
According to the World Health Organization (WHO), health professionals maintain the health of citizens through evidence-based medicine and caring. Students enroled in health professional programmes are required to have successfully attained all core learning outcomes by reaching key milestones throughout the course of their studies, demonstrating they have developed the required graduate skills and attributes upon completion of the programme. While some of the knowledge, skills and competencies that make up these learning outcomes are very discipline specific, there are more general professional skills across all disciplines which are difficult to define, such as empathy, emotional intelligence and interprofessional skills. These are at the heart of all health professional programmes that once defined, can be mapped through curricula and further evaluated. Literature will be presented on these three professional skills: empathy, emotional intelligence, and interprofessional skills, based on studies that focussed primarily in health professional programmes and highlight some of the key findings and issues at undergraduate and postgraduate levels. The paper will present the need for these skills to be defined and then mapped through curricula so that students are better supported in their professional development. Empathy, emotional intelligence and interprofessional skills transcend the discipline specific skills and as such it is important that all educators consider how best these may be fostered. Efforts should also be made to further the integration of these professional skills within curricula to produce health professionals with an enhanced focus on person-centred care.
identifiers
10.1016/j.jmir.2023.02.014
ae974a485f413a2113503eed53cd6c53
10.1016/j.jmir.2023.02.014
Scopus Count
Collections