Environmental drivers and sustainable transition of dachas in Eastern Europe: An analytical overview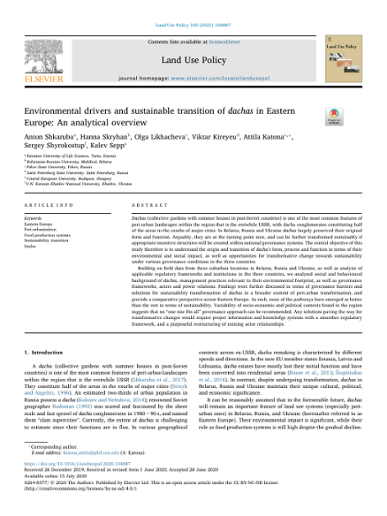 Name:
Shkaruba-Anton_2021.pdf
Size:
2.279Mb
Format:
PDF
Your vote was cast
Thank you for your feedback
Title / Series / Name
Land Use Policy
Abstract
Dachas (collective gardens with summer houses in post-Soviet countries) is one of the most common features of peri-urban landscapes within the region that is the erstwhile USSR, with dacha conglomerates constituting half of the areas in the exurbs of major cities. In Belarus, Russia and Ukraine dachas largely preserved their original form and function. Arguably, they are at the turning point now, and can be further transformed sustainably if appropriate incentive structures will be created within national governance systems. The central objective of this study therefore is to understand the origin and transition of dacha's form, process and function in terms of their environmental and social impact, as well as opportunities for transformative change towards sustainability under various governance conditions in the three countries. Building on field data from three suburban locations in Belarus, Russia and Ukraine, as well as analysis of applicable regulatory frameworks and institutions in the three countries, we analysed social and behavioural background of dachas, management practices relevant to their environmental footprint, as well as governance frameworks, actors and power relations. Findings were further discussed in terms of governance barriers and solutions for sustainability transformation of dachas in a broader context of peri-urban transformation, and provide a comparative perspective across Eastern Europe. As such, none of the pathways have emerged as better than the rest in terms of sustainability. Variability of socio-economic and political contexts found in the region suggests that no "one size fits all" governance approach can be recommended. Any solutions paving the way for transformative changes would require proper information and knowledge systems with a smoother regulatory framework, and a purposeful restructuring of existing actor relationships.
identifiers
10.1016/j.landusepol.2020.104887
ae974a485f413a2113503eed53cd6c53
10.1016/j.landusepol.2020.104887
Scopus Count
Collections