Probing commitment in individuals with borderline personality disorder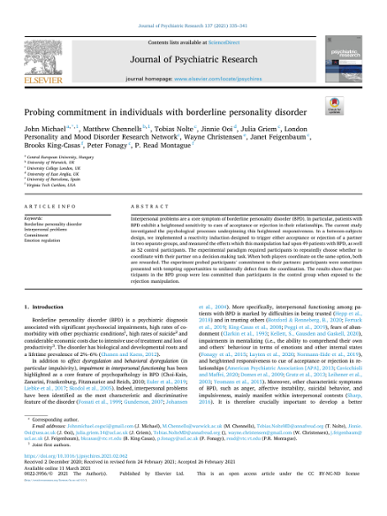 Name:
Michael-John_2021.pdf
Size:
1.572Mb
Format:
PDF
Your vote was cast
Thank you for your feedback
Title / Series / Name
Journal of Psychiatric Research
Abstract
Interpersonal problems are a core symptom of borderline personality disorder (BPD). In particular, patients with BPD exhibit a heightened sensitivity to cues of acceptance or rejection in their relationships. The current study investigated the psychological processes underpinning this heightened responsiveness. In a between-subjects design, we implemented a reactivity induction designed to trigger either acceptance or rejection of a partner in two separate groups, and measured the effects which this manipulation had upon 49 patientswith BPD, as well as 52 control participants. The experimental paradigm required participants to repeatedly choose whether to coordinate with their partner on a decision-making task. When both players coordinate on the same option, both are rewarded. The experiment probed participants' commitment to their partners: participants were sometimes presented with tempting opportunities to unilaterally defect from the coordination. The results show that par ticipants in the BPD group were less committed than participants in the control group when exposed to the rejection manipulation.
identifiers
10.1016/j.jpsychires.2021.02.062
ae974a485f413a2113503eed53cd6c53
10.1016/j.jpsychires.2021.02.062
Scopus Count
Collections