Prompting teaching modulates children's encoding of novel information by facilitating higher-level structure learning and hindering lower-level statistical learning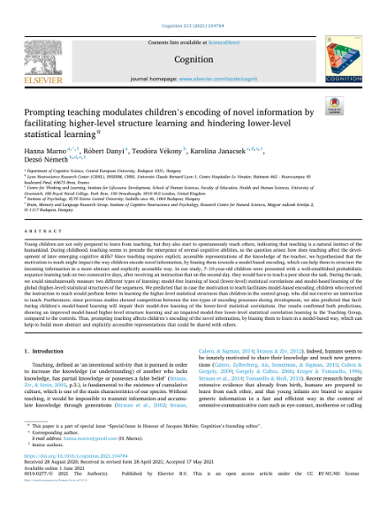 Name:
Marno-Hanna_2021.pdf
Size:
920.7Kb
Format:
PDF
Your vote was cast
Thank you for your feedback
Title / Series / Name
Cognition
Abstract
Young children are not only prepared to learn from teaching, but they also start to spontaneously teach others, indicating that teaching is a natural instinct of the humankind. During childhood, teaching seems to precede the emergence of several cognitive abilities, so the question arises: how does teaching affect the development of later emerging cognitive skills? Since teaching requires explicit, accessible representations of the knowledge of the teacher, we hypothesized that the motivation to teach might impact the way children encode novel information, by biasing them towards a model-based encoding, which can help them to structure the incoming information in a more abstract and explicitly accessible way. In our study, 7–10-year-old children were presented with a well-established probabilistic sequence learning task on two consecutivedays, after receiving an instruction that on the secondday, they would have to teach a peer about the task. During the task, we could simultaneously measure two different types of learning: model-free learning of local (lower-level) statistical correlations and model-based learning of the global (higher-level) statistical structures of the sequences. We predicted that in case the motivationto teach facilitates model-based encoding, children who received the instruction to teach would perform better in learning the higher-level statistical structures than children in the control group, who did not receive an instruction to teach. Furthermore, since previous studies showed competition between the two types of encoding processes during development, we also predicted that facilitating children's model-based learning will impair their model-free learning of the lower-level statistical correlations. Our results confirmed both predictions, showing an improved model-based higher-level structure learning and an impaired model-free lower-level statistical correlation learning in the Teaching Group, compared to the controls. Thus, prompting teaching affects children's encoding of the novel information, by biasing them to learn in a model-based way, which can help to build more abstract and explicitly accessible representations that could be shared with others.
identifiers
10.1016/j.cognition.2021.104784
ae974a485f413a2113503eed53cd6c53
10.1016/j.cognition.2021.104784
Scopus Count
Collections