Leader and citizens participation for the environment: Experimental evidence from Eastern Europe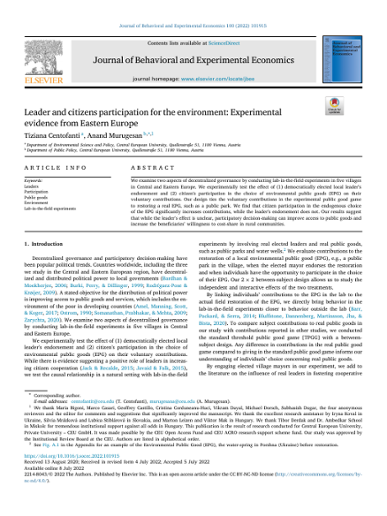 Name:
Centofanti-Tiziana_2022.pdf
Size:
1.921Mb
Format:
PDF
Your vote was cast
Thank you for your feedback
Title / Series / Name
Journal of Behavioral and Experimental Economics
Abstract
We examine two aspects of decentralized governance by conducting lab-in-the-field experiments in five villages in Central and Eastern Europe. We experimentally test the effect of (1) democratically elected local leader's endorsement and (2) citizen's participation in the choice of environmental public goods (EPG) on their voluntary contributions. Our design ties the voluntary contributions in the experimental public good game to restoring a real EPG, such as a public park. We find that citizen participation in the endogenous choice of the EPG significantly increases contributions, while the leader's endorsement does not. Our results suggest that while the leader's effect is unclear, participatory decision-making can improve access to public goods and increase the beneficiaries' willingness to cost-share in rural communities.
identifiers
10.1016/j.socec.2022.101915
ae974a485f413a2113503eed53cd6c53
10.1016/j.socec.2022.101915
Scopus Count
Collections